OUR STORY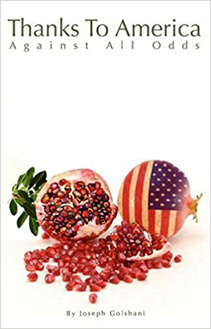 "THANKS TO AMERICA: AGAINST ALL ODDS"
by Joseph Golshani

JOSEPHS STORY
In an effort to further his eductaion, Joseph Golshani came to America over thirty years ago with the intent of returning to Iran, but he soon realized the tremendous opportunities that were offered him in the country. He remained in America and made a name for himself. In Thanks To America, Joseph chronicles his journey, while giving thanks to the country that provided opportunities he never dreamed possible. Along the way, Joseph shares his trails and triumps, and his affirmative outlook with a straightforward philosophy, and he does so with munor, humility and grace.venkatesh
-Debra Niel Baker
OUR STORY
Joseph & Friends Salon and Spa began as a dream for Joseph Golshani. He was committed to the concept of a salon that would go above and beyond to provide outstanding service for clients and continuous, top of the line education for employees. In 1989, with the help of his family, he opened the first salon which would be the flagship and home base of operations, later becoming a successful multiple-location enterprise.
For over 25 years, Joseph & Friends Salon and Spa has been: ranked among the TOP TEN SALONS IN ATLANTA, one of the FASTEST GROWING SALONS by Salon Today, and has won numerous awards for its cutting edge work and renowned stylists.
Each Joseph & Friends Salon and Spa location is a full-service Aveda concept salon, offering a variety of services including: a full spa (at the Holcomb Bridge location), and first class services for cut, color, extensions and any beauty needs. We are a multicultural salon where our stylists complete a rigorous education curriculum before getting on the floor, and participate in continuing educational programs every year through the Joseph & Friends Salon and Spa Advance Academy.
Joseph & Friends Salon and Spa always strives to exceed our guest's expectations in every aspect of their visit. To do so, we offer complementary upgrades to our guests, complementing their experience with value-added services such as: a chair massage, scalp massage, professional consultation and make up touch-ups. We want each guest, whether they spend an hour or a day, to feel a million miles away.
We exclusively use Aveda products, Petroleum & Paraben-Free, containing only pure plant and flower essences from nature. Aveda is a pioneer in environmental conservation and awareness. Maintaining this standard of integrity, Joseph & Friends Salon and Spa can confidently say that we are positively impacting the people, the ecosystems, and the economies from which the product's ingredients are sourced. Moreover, our guests can take pride in the fact they are using a product that is superior, safe, & green, in addition to delivering exceptional performance. Aveda's philosophy coincides with ours and that is what makes us who we are: one vision, one body, one world.
About Joseph Golshani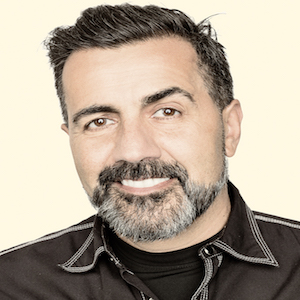 Award winning hairstylist Joseph Golshani, was born in Tehran, Iran, to a middle class family, in October 1957. He was afforded the opportunity to see beauty all around him at a very young age; something he has continued to carry with him for all of his days. His very creative mother was a seamstress, passionate about beauty, so from an early age he was exposed to the "latest" trends in shapes, color and styles. Soon that passion became his and he sought out a way to express it, and share it with the world.
Joseph arrived in America in 1977 with a suitcase full of dreams and a huge enthusiasm for a better life. Little did he know then that he would take his creativity to a whole different level. He had finally found an outlet for his dream, a way to share the vibrancy of life with those around him…hair! Having a natural ability to connect with others, this added desire and drive to share beauty with the world is part of what has made him a master of his trade. "Probably one of the reasons why I chose hairdressing as a career was realizing that Beauty is all about changing a person for the better."
Author of the book "Thanks to America; Against all Odds", chronicles his 'American Dream Come True' as he grew physically, spiritually and financially. Joseph believes he owes America a great deal of gratitude, and to those travelling the same path, he hopes his success story gives them strength to pursue their own dreams. Joseph has translated this concept to his thriving business where he strives to help dreams come true. Joseph has made it his life's goal to ensure this wherever possible, giving back to those that made his dream possible. Without his clients, staff and friends, he understands that he would not be where he is today.
Now the owner of a successful multi-location operation, and a firm believer in education as the path to growth, he created the "Joseph & Friends Bootcamp" where all new hires go through a rigorous 12 weeks curriculum in all aspects of the hair and beauty industry. The emphasis is on mastering haircuts through his unique "Planes System", and creating color perfection. Joseph also provides numerous education programs throughout the year through the"Joseph & Friends Advance Academy", created to ensure his staff gets first class trainings to deliver the best client experience in the market.
To those that know him, he is so many things. He is an inspiration, a go-getter, a true talent. He is also an athlete, a competitor, a good sportsman; a husband, a father, and more than just a boss to many. Always humble, never greedy or verbose, he gives back continuously to those around him: family, friends, clients, staff, the community, charities, and total strangers. If you have never met him you may have seen him, doing hair, walking around talking to guests and staff. He does not place himself above anyone, and will most definitely take the time to greet you with a handshake or a hug. It is guaranteed he would love to meet you, to thank you for your support, and to add a little more beauty to your life.